Update from Mike and Cyndi Struven – December 2022
We recently received this correspondence from Mike and Cyndi:
Greetings! Thank you for your faithful support and prayers! We have been busy the past two weeks; God has filled our hands with meaningful endeavors to further His work at CC Maranatha.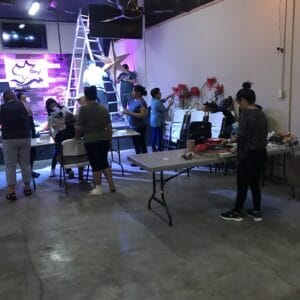 1. Thursday, 11/24, we celebrated Thanksgiving here in Mazatlan. This was a great time of fellowship and getting to know our English speaking friends better.
2. We continued our visits to Calvary Stone island : Thursdays, Cyndi helps with homework club; Sundays, Cyndi helps with homework club and also Children's Ministry. Mike helps with getting Cyndi there and back safely and on time and occasionally shares for the time of communion. We hope to build relationships with the English speakers there and encourage them in their participation. We also hope to be a support and encouragement to the pastor and his wife, Efrain and Amanda.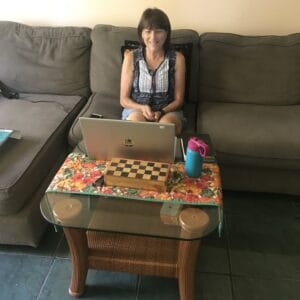 3. Cyndi has started English classes (3 times per week for one hour each), sewing class (Mondays from 3-6) and cooking class (Wednesdays 2-5). Pray that the kids would learn these things and also grow up to become disciples of Jesus.
4. Wednesday evenings we help at one of the "Iglesia en Casa" outreaches in the community by bringing food and supplies and helping with children's ministry. This outreach is in a very poor, drug and alcohol infested neighborhood. Many kids show up and hear the gospel. For some, the food they receive may be all they get for that day. Hopefully, this outreach will begin to impact the parents and other relatives; only a few adults come for worship and Bible Study. The couple that hosts this time is Pedro and Rubi - pray for them and their 3 children to have an impact on their nieghborhood.
5. We started the English speakers home group last Tuesday, 11/29, with dinner at 5 and Bible Study in Galatians around 6. Last Tuesday, we had 9 for dinner and 11 for Bible study.. (Sorry, no pics this time - forgot to take them.) Pray for me as I lead the discussion times and that we would grow in our love for each other and the church and in our service to the church.
6. We play pickleball 2X per week for exercise and also to meet others, mostly English speakers. We hope that this can become a fruitful place to make contacts, invite people to our home and be able to share the gospel with them and invite them to CC Maranatha.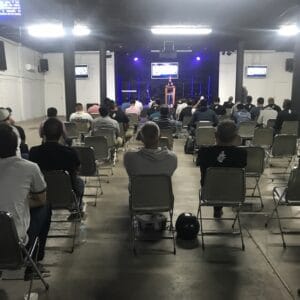 7. Sat, Dec 3, Mike and Tony (the pastor) drove 14 men to a Men's conference in Culiacan (Anthem supports pastor Hugo there.), about a 3 hour drive. It was a great time of fellowship and teaching for the men.The conference was all in Spanish, but Mike still had a great time traveling with everyone and helping in this way. Somehow, we were still able to communicate a bit; our fellowship in Christ transcends language.
8. Mike has initiated a project to complete some needed building improvements at the church. (see attached proposal).If you want to help, the proposal tells you how. If you have additional questions, please let me know. I hope to send progress pics with my updates. Pray that these improvements would be  a blessing to the church and that we would bring them to completion in a timely manner.
9. We will be back home from Dec 26 to Jan 8; the church has limited activity during this time, since a lot of people travel and visit family during this time.