Mike and Cyndi Struven in Mazatlan, Mexico! – April 2023
We recently received this correspondence from Mike and Cyndi:
Greetings everyone! This will be our last update this season; we leave Mazatlan next Wednesday, April 26, and plan to be back in Goleta on April 28th. Here is what we have been up to these past few weeks:
1. Cyndi concluded her cooking and sewing classes. The kids that attended these times learned a lot and appreciate the classes. We had an end of year party with the families that was well attended. We will miss the kids coming to our house, and I am sure they will miss us too.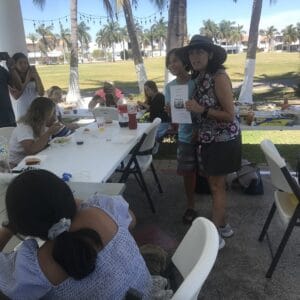 2. Cyndi will conclude her English classes with the kids this week, W-F from 11-12. The kids have grown in their English speaking capabilities.
3. Our Food Bank delivered 4 crates of food to each of 4 families.
4. Last night was our final home group for English speakers. Many of the English speakers have returned home for the summer, but we still had about 15 at home group. In addition to Bible Study, we host dinner for all who want to join us. These have been great times of fellowship, getting to know each other, growing in the Word, and praying together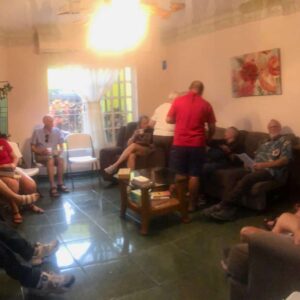 5. This past Sunday we had lunch and fellowship with 50+ group of both English and Spanish speakers. Our "ice breaker" questions provide opportunities for people to share about their various life experiences. We hope that someone will keep this group going after we leave for the summer. (Sorry, no  pix)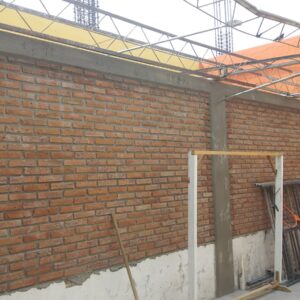 6. Mike has been acting as project sponsor and project manager for some building projects at the church, as discussed in previous emails. The projects included an electrical upgrade, new women's bathroom, shower, storage area and workshop, and outdoor kitchen. Everything will be done by the time we leave, except for the outdoor kitchen.
7. We both take the water taxi to Stone Island to support the church there. Cyndi helps with a homework club on Thursday and Sundays as well as children's ministry every other Sunday during their meeting. Mike has been filling in for the pastor there while he and his wife are out of town. This Sunday Mike will teach again. (Sorry, no pix of the church)
Thanks for all your prayers, support, and words of encouragement.